Talking about website performance...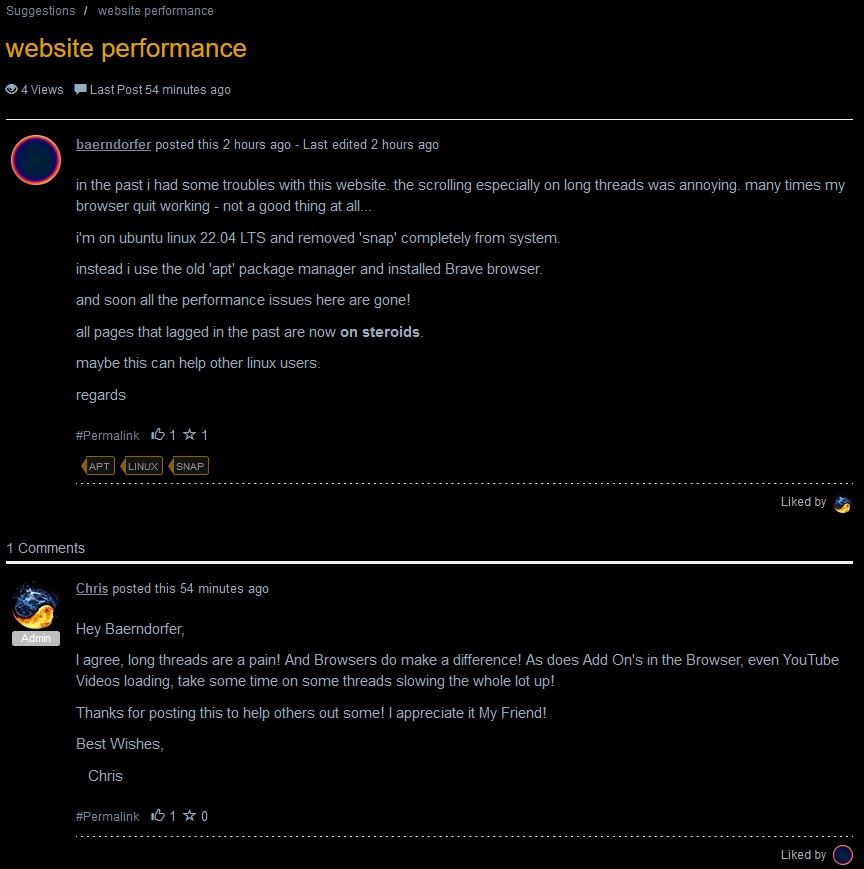 That's why we implemented our own features which are not present in the old site.
Like the paging functionality for the posts in a thread (implemented by Cd_Sharp, thank you buddy !):

You would say someone with "three decade's of IT experience" should know...

Of course, the reason why his site is going down almost every day for years have nothing to do with his site's poor performance and his unstable internet connection, it must be because of our "attacks" or "other forces' attacks" wanting to stop him. 😉
It's easier to find someone to blame than to really do something to fix the real issues or at least to acknowledge the real issues. And asking users to use Linux and customized browsers is not an option nor will make the real issues dissapear.
This is just one of the features and reasons why our site is 4-5 times faster than his old site.
Also the fiber-optics internet connection and the Romanian internet which is #4 in the top of fastest in the world. Not even a Starlink satellite connection would ever come close to fiber-optics connection and one of the fastest internet in the world.
So, as someone would say, our site's performance is "light years ahead" of the old site ☺️
Should I start talking about the security and show the thousands of attempted attacks coming every day to our site ? We don't complain about that, it was something we expected considering the content of our site.
Let's just say our site is like an UFO, when it feels it's being locked-on (someone is launching an attack) it dissapears in thin air (the attacker's IP is banned for a while, forced to take a break).
Again, "light years ahead"... 😃
Regards,
Fighter
"If you want to find the secrets of the universe, think in terms of energy, frequency and vibration."
Nikola Tesla